INVISIBLE BY TENA STIVIČIĆ
13 OCTOBER – UPTOWN GENEVA
ARRANGED BY NOELLE RENTSCH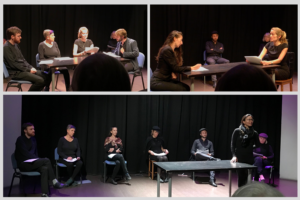 Our first playreading back at Uptown since last March and the start of the Covid pandemic was a resounding success!
Kudos to arranger Noelle Rentsch and her talented cast – Manda Kirkus Vacic, Dmitry Borisov, Daire O'Doherty, Viki Lazar, Olga Derenkova, Gemma Parkes – for an excellent show!
Thanks also to the many people who turned out and filled the house with the distancing regulations in place.