David Wark, a fountain of theatrical knowledge and a pillar of GEDS for decades, died at the age of 87 after six months of declining health on 14 April. The cremation took place a week later at the St Georges funeral centre in Geneva.
David Wark as a young boy, surrounded by fairies in 1936 production of A Midsummer Night's Dream in Hyde Park, London.
Images taken from the programme of a GEDS PLAY-READING IN 2014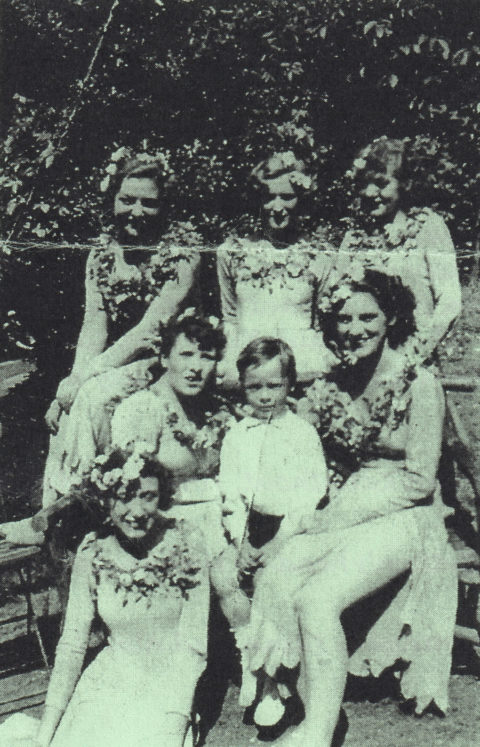 For many years David ran the bar for GEDS play-readings in the English Church Hall. He also took minor parts in several full productions and arranged readings of British plays from the first half of the 20th century. On one occasion he even played the piano for the GEDS' youth production of 'Allo 'Allo.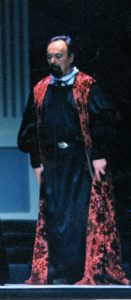 "David was one of those warm, dependable people that are the backbone of societies like GEDS," said Beverley Rousset, former membership secretary. "For years he unfailingly provided liquid sustenance at play-readings and welcomed new faces."
Former chairman David Farrar paid tribute to David as "a good man, and a stalwart of GEDS", always willing to serve the Society though he had no ambitions to take a starring role.
Fellow GEDS veteran Valerie Antonietti described David as a generous, kind and thoughtful man who did much for GEDS, clearing up after play-readings without ever complaining. "He was charm personified," she added. "It was always a pleasure to be at the Church Hall when he was running the bar. He made it a good convivial place."  
GEDS members recognised David's service by voting unanimously, at the annual general meeting in 2013, to make him a Life Member of the Society.
David Wark was born in England in 1932. His father Colin (1896-1939), composed film music and the successful 1935 West End musical Tulip Time. His mother was a dancer, and his grandmother a wardrobe mistress. David used to say he was pushed onto the stage in a pram as a baby, and he recalled being backstage in a West End theatre when a bomb exploded outside during World War Two and the leading actress insisted the show must go on.
After moving to Geneva in 1970 with the McCann advertising agency, David was instrumental in establishing Elm Video, later English Language Media. GEDS member Frances Favre recalls, wrote knowledgeable and amusing newsletters on the films ELM rented out on video-cassette. 
David was also a fund of knowledge on the British theatre, with a keen memory of which famous actors appeared in which famous plays in which year. Plays he arranged as readings included Frederick Lonsdale's The Last of Mrs Cheyney (1925) and Return of the Prodigal (1905) by St John Emile Clavering Hankin.
In full GEDS productions David appeared as Gratiano in Othello (1995), as a member of the Chorus in Antigone (1996), and as a Cardinal in Hadrian VII (2002).
My own treasured memories of David include a message he sent me following my 60th birthday party in November 2015. Typically erudite, he quoted a poem by Leigh Hunt inspired by Horace.

If I am to die, let it be when I'm drinking
And may some kind Christian soul hold my head as I'm sinking
While the angels above sing: O Lord, be kind to a gentleman
Of this gentleman's way of thinking.
I do hope that David had the death he wanted and deserved, and I join all David's friends in GEDS in sending my condolences on their loss to his two children and to Heidi Sonderegger, his partner of 30 years.
A celebration of David's life will be organized after the coronavirus restrictions are lifted.
David Lewis