Manuela Isaila talks to director Neil-Jon Morphy.
The upcoming GEDS production of a Midsummer Night's Dream is both a self-evident and puzzling choice. Self-evident because this Shakespeare favourite is always a crowd-pleaser; but puzzling, because this very fame makes it a risky proposition for any director. For our own Neil-Jon Morphy it is a dream come true: one of the best-known plays of all times that everyone can agree on, but also one that comes with the kind of challenges an experienced director and actor craves, in order to keep awake his spirit, and stir the creative flow. With the added attraction that he sees it not only as a beautiful poetical drama, but also very approachable and truly funny: "Some of Shakespeare's plays are called comedies merely because they're not tragedies but then they're not comedies either, because they're not funny. Midsummer is actually a very funny play."
In many ways, it has been along the years – and still is to this day – the perfect comedy: frothy, but not light; full of lessons about love, and relationships and the power struggle between men and women, but not moralizing; full of clever repartees, but not so clever its references sink into obscurity. And, for a theatre troupe like GEDS, it is beautifully balanced in character, with points of movement well-distributed, and an equilibrium of parts – no single one collars the lion's share. So my pervading question for Neil-Jon was: how was he going to play it? Because Shakespeare's brilliant melting pot of Ancient Greece and British folklore, using the gamut of styles from Greek love tragedy, to poetry, to music, to farce, with touches of Roman pageantry thrown in, opens infinite strands of imaginative possibilities. And the mere choice is an act of bravery.
Well, let's start with the text: no need to fiddle there, the production is sticking quite closely to it – the folio version – with some minimal cutting where classical references were deemed completely lost on modern audiences. And some switching around of speeches to allow for the quite daunting number of costume changes in this play. As most of the actors are cast in at least two different roles, some very nimble footwork will be needed to achieve the switching between characters, hopefully without a sight or whisper reaching beyond the stage. No other tilt, or colouring of the meaning, is to be expected, because Neil Jon is focusing on finding the meaning within the text, instead of bringing new shades of significance to what is already there.
Looking at the text as the most important challenge of the play, of any Shakespeare production really, laden, as it is bound to be, with audience comprehension fears, the director's main focus has been on helping actors embrace the lines and make them their own. "My belief is that if the actors firmly understand what they're saying, that understanding will be conveyed to the audience, even if not in every word, at the very least in understanding the intention. So what I want to achieve with this production is that every actor understands what they're saying, and that they say it in a way that's comprehensible to an audience. I worked with the actors a lot, to make sure they focus on the meaning of the text, rather than its rhythm". Thus, the most complicated bit of poetry is tinged with the reality of delivery, because all actors fully feel, dragged from whatever forgotten cranny of their history, is the choking emotion of the verse they are delivering.
Neil-Jon also found other elements to help keep it real, like the occasional violent undertones: romantic rejection, marital discord, even subjugation and humiliation. He hasn't skirted the darker side of Oberon, for instance, who has his less-than-regal, or even decent, reactions. As he hasn't left Puck at this schematic, happy-go-lucky self: his Puck does play tricks on people, as he is meant to, but there is a darker enjoyment to the havoc he is thereby creating. "There are some strong women characters in the play," Neil-Jon explains, "but then there are also women who are completely humiliating themselves. Helena debases herself completely for Demetrius and he treats her like dirt, so there is a really nasty, dark side, of the play's reality", which reveals itself when you scratch the surface of the witty repartee. "But I'm not overplaying it, because I want to keep it reasonably light as a comedy", with just that fold of shadow that would show up the depth he feels is there, at the very core of the play.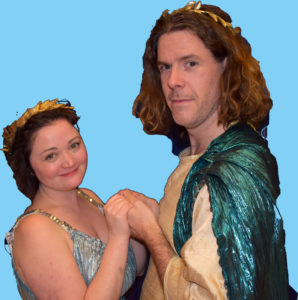 Talking about shadows brought us to the second biggest challenge of the play – how to play the magic, the ambiguity between dream and reality? Neil-Jon's answer is colour-coding – literally. We won't reveal any of the secret details that are meant to act as scene-setters and signifiers in this version of the play – suffice it to say that the reality of the Duke's Palace will be depicted in dreamy shades of white and grey, while the fantasy- filled forest will explode in a riot of colour, both in the set, and in the costumes. The set is mostly projections, with only one structure on the stage that will move and change between the Duke's palace and the forest. But none of the projections are meant to look realistic in the slightest: the palace is a washed-out structure of muted greys, and the forest is anything but real green. In a similar treatment of the costumes, "the human characters are very dull in their costumes, and the fairies very colourful, to mark the difference between reality and fantasy", with a general feeling of "modified Greek" in style, because "I'm not going to go overboard or do anything exotic. I'm keeping to the play – as in setting it in the time it was written, rather than another time." With one exception – the mechanicals – who will be treated to a forgiving dose of dungarees, to keep it as real as this fantasy can get.
The most delicate challenge of them all – the Shakespearian humour – the director is taking with a pan face and a dose of realism. If one is in love with the comedy of it, after all, dark shadows and all, this love will show through in the most natural way. "I tried looking for the humour without forcing it. Finding humour in the reality of the play, even though it can get quite farcical at the end. So I'm not playing up the comedy, but rather looking for comedy in the reality of the play, in what's happening", trusting Shakespeare and his own brilliant cast to take care of the rest.
At its simplest, A Midsummer Night's Dream follows the script of one of the innumerable American films in which a magic potion constitutes both plot and solution, and helps the characters through all of the twists and turns of their romantic entanglements. At its most subtle – it's a twist of four different plot strands populated by three different types of character, almost unconnected, except that they share the same time and space. It is a rapid-fire jamboree of classicals – like the myth of the Minotaur, tilted into comedic mode, as seen in some of the forest scenes; or the upside-down world of a Roman Saturnalia, the most distinctive of ancient celebrations, when everything was permitted, masters served their slaves, and the riot of gambling and carousing was dimmed only by enormous clouds of permitted alcohol – as suggested when the nobles suddenly start speaking in prose and the mechanicals in verse.
How is he going to cope with all of this and the daunting number of self-inflicted costume changes? "It's all in the acting", says Neil-Jon. "It's all in the acting". So now the challenge is ours, the spectators'